Sponsor Spotlight: RenovationFind
Sep 19, 2022, 16:28 PM
We're thrilled to have RenovationFind as a sponsor of the 2022 Ottawa Fall Home Show. Before you visit this inventive company at the EY Centre over the September 22-25 weekend, please enjoy our brief interview with the RenovationFind team below.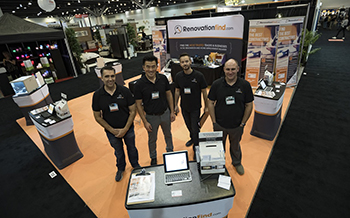 Q: How does your service work?
RenovationFind connects homeowners with experienced and reputable home services, renovation companies and trades. Users can visit our free online directory at RenovationFind.com. There, they'll find listings of pre-screened and vetted home improvement companies in their city, organized in categories. We use a third-party organization to run legal and financial background checks. In addition, they check for business licensing, liability insurance, and WBC coverage. Then, the third-party monitors the companies on the directory to ensure they comply with our standards moving forward. If a company is part of the Better Business Bureau, it will receive a higher ranking on our site.
Anyone can go to RenovationFind.com to find knowledgeable and trustworthy contractors for their home improvement projects or repairs. So whether you need a landscaping company, roofer, electrician, window company or are looking for the best painters in Ottawa, you'll find a RenovationFind Certified company that can help.
Additionally, we work with the RenovationFind Certified companies on our website to help them boost their web presence with various digital marketing services. As a result, we improve their exposure to homeowners in their target market and help protect homeowners by connecting them with honest companies. It's a win-win.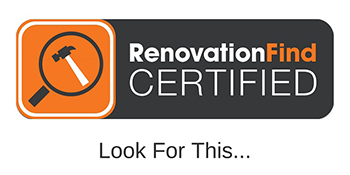 Q: What inspires your services?
I own a granite company and have worked in the renovation industry for many years. Before we started RenovationFind, I constantly heard stories from homeowners about shady contractors that were ripping them or people they knew off. I often heard stories of leaving work unfinished, doing a terrible job, or taking off with the deposit and disappearing. It's incredibly stressful and usually leaves the homeowner with a financial burden.
RenovationFind helps prevent this from happening. We wanted homeowners to have a resource where they could confidently find and hire reputable, honest home improvement companies. The companies on our list have proven reputations for quality work, good customer service, and are in good legal and financial positions. Having access to pre-screened contractors during an expensive renovation can significantly reduce stress. In addition, it helps us promote worthy contractors and improve the reputation of the renovation industry overall.
Q: What can we look forward to you at the Ottawa Fall Home Show?
Come see our team at our booth at the show! We are excited to introduce our free service to homeowners, share what we do, and help them find contractors for their projects. Visitors can use our Post a Project service. They can fill in the details of their upcoming project, and we'll get them estimates from three RenovationFind Certified contractors in their area. So, for example, if you want to renovate the kitchen this fall or winter, we can send the quote to three kitchen remodel contractors in Ottawa. Those companies will contact the homeowner for more information and to provide an estimate for the job.
We'll also have a draw for $1,000 at the booth! Visitors can sign up for a RenovationFind Membership to enter to win. The membership gives exclusive promotions and discounts to partner companies in Ottawa.
Q: What advice do you have for homeowners?
Always do lots of research! We cannot stress that enough. Never rely on online reviews and try not to be lured by the lowest quote for the job. There are bad contractors operating without proper business licenses or insurance, which can put you at risk. Ask to see those credentials, WCB insurance, and at least three references. Ask for a list of the last three customers they served. That way, they can't pick and choose their best jobs, and you'll get an accurate idea about their work and services.
Also, never accept an estimate that isn't in writing. In addition, get estimates from multiple contractors so you can compare them. You want to choose a contractor with competitive pricing. A low-ball price could mean they lack experience or use cheaper materials and labour. If a company cannot provide a written estimate and proof of credentials, it's usually a bad sign.
Q: What is your favourite part of the Ottawa Fall Home Show?
Our favourite part is meeting and talking with homeowners about their projects and then connecting them with the renovation companies they need for the projects. Making those connections is very rewarding! We know the homeowner will have a positive experience and be happy with the renovation. Plus, we can promote those good companies at the same time. The home show helps make that happen.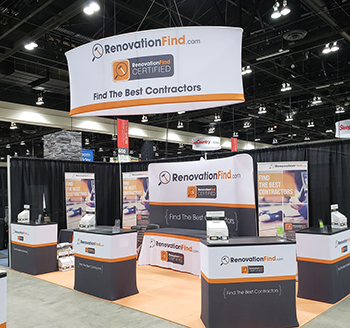 Q: Are there any success stories you'd like to share?
We rely heavily on data to create our website and directory of RenovationFind Certified companies. Part of that is collecting feedback from users. From the feedback we've collected from directory users, people have shared positive experiences finding and working with the contractors on the site. Homeowners seem happy that we've done those extensive background checks and monitoring, so they don't have to, and they can feel confident and less stressed about hiring someone to work in their home.
For the companies on the directory, we have data showing an improvement in web traffic and exposure and have generated qualified leads and jobs from RenovationFInd.com. We provide a suite of digital marketing services that assist with that and drive traffic to their profiles and websites.
Q: What can folks expect when they work with you?
Home and business owners can expect to find trustworthy and quality home improvement companies, trades, and contractors on RenovationFind.com. Our service is entirely free to use and offers a list of certified companies in many categories. For example, you can find basement renovation companies in Ottawa, plumbers, drywall contractors, home builders, HVAC companies, tile installers, foundation repair companies, and many others.
If you're a company in the home improvement sector, your RenovationFind Certification will help you build a brand of trust and quality with your target demographic. We use search engine targeting, blog posts, social media, email marketing, banner web ads, and other digital marketing channels to promote our companies. These services improve search engine optimization, web traffic, online presence, and can generate leads.

The Ottawa Fall Home Show is your source for trusted home experts, like RenovationFind. Join us at the EY Centre September 22-25, 2022 to get great ideas for your space. We can't wait to see you at the show!