Sponsor Spotlight: RenovationFind
Sep 27, 2021, 12:10 PM
We're thrilled to have RenovationFind as a sponsor of the 2021 Ottawa Fall Home Show. Before you visit this inventive company at the EY Centre over the October 28-31 weekend, please enjoy our brief interview with the RenovationFind team below.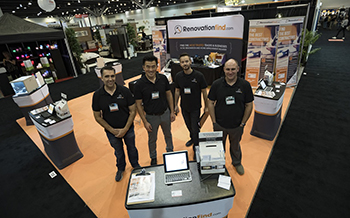 Q: How does your service work?
RenovationFind is a free online directory of home improvement companies, trades and contractors. Each company on the website goes through extensive background checks and a certification process. A third-party organization does background checks on legal and financial, monitors customer feedback, checks for business licensing, insurance and WCB coverage. Better Business Bureau companies receive a higher ranking. All companies are constantly monitored based on these criteria, to make sure they're keeping up to standard.
RenovationFind makes sure that homeowners are protected by putting the best, most trustworthy companies forward for their home renovations. We are also focused on promoting companies that do good work so we can improve the reputation of the renovation industry. It's a win-win situation for both the consumer and the business owner.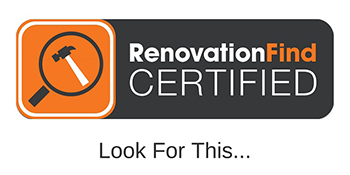 Q: What can we look forward to from you at the Ottawa Fall Home Show?
We invite visitors to the show to learn more about us at our booth. We will have stations where they can post a project, and we can connect them with three different contractors or trades for that project. After the connect is made, they'll receive three accurate quotes from trustworthy companies.
If you want to sign up for a RenovationFind membership, you'll be entered to win an iPad plus $1000 cash. All RenovationFind members receive promotions from our partner companies, including discounted pricing.
Q: What advice do you have for homeowners?
Research is critical before making any hiring decision for your home renovation. Check the credentials of the contractor, including their insurance and business license. You should also get a few references from previous clients they've done work for.
When asking for references, ask for the last three jobs the company worked on instead of any reference they choose. Companies may give you their best jobs and purposefully keep the poor ones to themselves, obviously. You will get a more accurate depiction of the company by getting the three previous jobs since they won't be able to pick and choose.
Q: What inspires your services?
Working in the home renovation industry for many years, I encountered many people on a regular basis that were taken advantage of by home renovation contractors. They were left with bad work, work unfinished and often a financial burden as a result. RenovationFind helps remove those problems from the renovation process. Homeowners will find companies they can trust will do good work, and that can be trusted.
Q: What is your favourite part of the Ottawa Fall Home Show?
We love meeting new people and letting them know what RenovationFind does. We like to help owners find a good company for their project, and in turn, we get to promote the good companies on our directory at the same time. Connecting a homeowners with a home renovation company helps both out, and makes for a successful exchange. This is why we do what we do.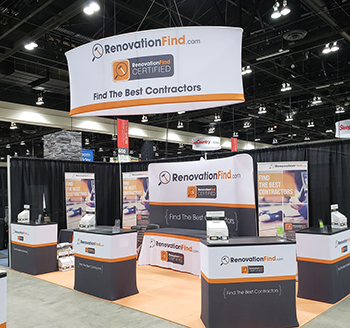 Q: Are there any success stories you'd like to share?
Homeowners have had success with our website. Customer feedback has shown that people are happy with the contractors they hire from RenovationFind.com. Often, they'll use the site once and then come back again and again for other projects in the future.
For the companies, marketing their business through our website and other digital marketing campaigns has helped them get qualified leads and grow their business. We see their business grow, and promoting these worthy companies is something we love to do.
Q: What can folks expect when they work with you?
Homeowners that use RenovationFind can expect honest and trustworthy advice on who to hire for their home renovation projects. With our pre-screening and continuous monitoring process, RenovationFind users can trust that they're hiring a company that will do good work and offer honest advice on their project. RenovationFind members receive special offers and discounted pricing on services within their geographic area. Our directory has a huge list of categories, ranging from Ottawa general contractors, painting contractors, electricians, HVAC companies in Ottawa, kitchen contractors, window companies in Ottawa, and more!
For the companies, we are committed to helping their businesses grow by promoting them to their targeted demographic. Their content is sent to our vast membership through emails, and their promoted via blog postings, social media posts and search engine targeting. Promoting good, trustworthy companies is something we are passionate about.
The Ottawa Fall Home Show is your source for trusted home experts, like RenovationFind. Join us at the EY Centre October 28-31, 2021 to get great ideas for your space. We can't wait to see you at the show!